New to WP Layouts? Get started here with tutorials that cover all the basics!
Using WP Layouts, you can save, import, export, download and share your own WordPress designs.
My Layouts Tab is the place where you can save custom sections, modules and layouts for later use.
WP Layouts Tab gives you access to the collection of premium layouts which you can import to your website with a single click.
WP Layouts makes a WordPress user's life easier.  You can preview your layouts, change their names, search by name and manage them with a few clicks.
Compatible with:
Divi Builder Plugin
Divi Theme
Extra Theme
Gutenberg
Elementor Free and Pro Versions
Beaver Builder Free and Pro Versions
Note
: While we feel this version of WP Layouts is fast approaching stable, we must caution you we offer no guarantees for any given feature or function.
In this tutorial, we will be installing WP Layouts. Before you can upload the plugin, you first need to download it from our website, www.wplayouts.space. Login to your account, go to the "My Account" page, click "Purchase History." Click the "download" button to get the zipped file.
To upload your plugin, you first need to log in to your WordPress Dashboard. After you have logged in, click the Appearances > Plugins > and "Add New" tab.

On the next screen, click the "Upload Plugin" button on the top of the page. This will bring you to a new page with an upload link. Click the "Choose File" button to open up a window to browse your computer. Locate the .zip file that you just downloaded, and select it.
After you have selected the file, click the "Install Now" button to install your plugin.

The page will re-load, and after the plugin has been fully uploaded, you will be presented with an "Activate Plugin" link. Click this plugin to activate your plugin and complete the installation.
Go to the WP Layouts Settings and log in to your WP Layouts account. Use the same password you used during a checkout process.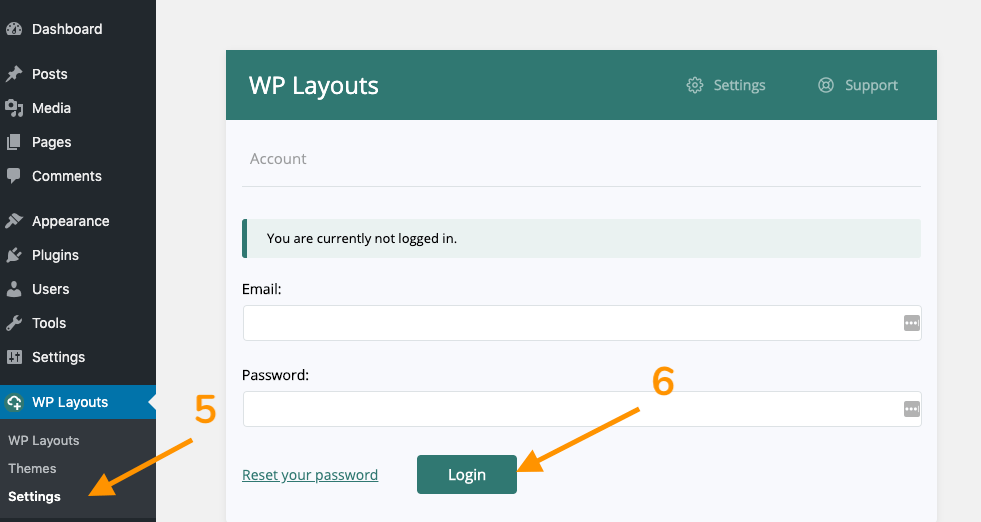 WP Layouts plugin is ready to use!
03

How to Save, Import & Export Templates in Divi
There are several different ways to get all or part of this page's content out of Divi's page builder and into your WP Layouts cloud storage for use elsewhere on this site or on other sites. You can do this using either the frontend visual builder or the backend builder. Watch the full demonstration of WP Layouts used with the Divi theme.
04

How to Import & Export Templates in Gutenberg
This is a demo of how to use WP Layouts to export content created with the WordPress block editor, also known as Gutenberg. It also covers how to import that content into a page on a different site.
05

How to Import & Export Templates in Elementor
WP Layouts allows you to export individual modules, rows, and the entire post or page to your layouts storage account. Watch the video where we show you how to do that with the Elementor Builder.
06

How to Import & Export Templates in Beaver Builder
How to change a layout name?
To change the name of your layout stored in your My Layouts collections, go to WP Layouts -> My Layouts. Click the layout. You will see a new window that appears to the right. Type in the new name and click Save.
How to delete a layout?
To remove a layout from your collections, go to WP Layouts -> My Layouts. Click the to-be-deleted template. You will see a new window that appears to the right. Click Delete button.
Is plugin multisite compatible?
Yes, WP Layouts plugin is compatible with WordPress multisite.
You can activate this plugin on the network admin dashboard or activate on each site admin panel individually.
Can I use WP Layouts to create websites for clients?
Yes, you can use it on client's sites. You can use any design that is included in the WP Layouts on client's websites without any attribution.
What happens to my layouts stored in WP Layouts if I cancel my subscription?
If your subscription is cancelled or expired, you won't be able to log in to access your layouts. Within 30 days of your subscription expiration, the layouts will be deleted from our system. If you renew your subscription within 30 days of the subscription ending, you will still be able to retrieve your layouts.
Can I change my e-mail and how?
If you want to change your e-mail, contact support.
I lost my password
You can reset your password here.
Does WP Layouts work with all the themes?
If the theme uses any of the page builders listed below, the answer is YES!
Divi Builder Plugin
Divi Theme
Extra Theme
Gutenberg
Elementor Free and Pro Versions
Beaver Builder Free and Pro Versions
What is the maximum size a layout may be?
We support layouts with a combined size (content, images, etc.) up to 25 MB.
Why do I see an error when I export my layout that the images could not be retrieved?
In order for the layout upload process to be successful, all images referenced in the layout that are stored beneath your site's uploads URL must be publicly accessible so that our system can retrieve them. For example, uploading a layout with images will not work if the images are in the site's uploads directory (or a subdirectory) and that directory's URL (as identified by your WordPress installation) is at localhost or an address on your local network that is not accessible from the outside. A failure may also occur if the uploads URL has an SSL certificate problem.
If these limitations pose problems for you, please contact support to let us know! We may implement changes in a future version of the plugin to address these limitations if they are a problem for our users.
I'm trying to import a layout in Elementor, but where is the My WP Layouts tab?
Please make sure you are running Elementor version 2.7 or higher, as we do not support prior versions.
Why doesn't my layout's thumbnail look like the layout?
Our thumbnail generation feature still needs refinement. Please bear with us for the time being!
When I preview multiple layouts, why do I see a different layout that the one I expected?
This may happen if you preview multiple layouts in quick succession. Please try previewing the layout again.